In my last blog post I talked about 'dressing happy' during January and the importance of our clothes to boost our mood. This got me thinking about some of the Winter style pitfalls I see my clients making when they first come to see me; so for this week's blog post I thought I would illustrate some of the more common ones and give some advice on how you can avoid them.
Don't Default To Darker Colours In Winter
When the skies are grey that last thing you need is for your outfit to match. Now don't get me wrong, I LOVE neutrals (including grey and even black) but I do find that a lot of my clients will gravitate towards dark tones in Winter months.
In my mind, colour is more important that ever at this time of year and my suggestion would be to incorporate it into every outfit you possibly can, even if this is just a small, subtle way.
Hats and scarves are great to add a colour pop or prefer a more neutral look overall. Not only can then easily be added/removed but the colour will be right next to your face, where it will have the most impact.
If you're not sure which colours suit you then teal is a great option that works for everyone (take this Ugg beanie, pictured left, which is in the sale and can be shopped here).
Don't Hide Away
Cosy knits, big jumpers and duvet coats are the warmest, most practical option at this time of year – especially if you're working from home or snuggling up at the weekend. The tendency can be to hide in multiple layers or looser silhouettes (especially if perhaps we've indulged a little tooooo much over Christmas!)
However, whilst super comfy, these oversized looks are not super flattering, so try to create balance and show a little shape where possible.
Do – Balance Your Proportions & Show Some Shape
To create balance and shop a little shape, try the following…
Pair oversized knits/sweaters with leggings (I love coated for a texture-contrast), to show the legs and then add a chunky boot to connect the width at the top and bottom of your frame, thus creating balance. Avoid oversized knits with wide legs trousers as there's just too much fabric.
Emphasise your waist by either adding a belt to looser dresses/jumpers or simply push up your sleeves. The gather at the elbow will elude to your waist without the need to a belt and overall the look will feel more pulled together.
Layer under, not over – I'm not a huge fan of cardigans that are there just for warmth as they rarely add anything to you look (often they just hide what you're wearing). Instead, layer fitted long sleeved tops, roll necks or vests under your outfit to add warmth without ruining your look.
Don't Panic Buy
As pay day approaches at the end of this month it's tempting to start splashing the cash on some new items to refresh your wardrobe and give you a bit of a boost. I get so many messages from followers who are bored with their wardrobes at this time of year and want to throw it all out and start from scratch.
Whilst the lure of a tiny new piece of clothing may be strong there are a few things I recommend you consider before hitting 'add to cart'…
Do Ask Yourself These Questions
Is the colour right for me?
Does the fabric/shape flatter my silhouette?
Do I immediately love it when I put it on?
Does it work with AT LEAST three other items I own?
If the answer to any of the above is 'no' then walk away!
I hope the above helps you with your Winter style as we see out the last of the cold and start to plan our Spring wardrobes (it'll be here before we know it!)
Until next time
Anna xo
Fancy a weekly style fix?
My online membership hub, The Style Sanctuary, is here to support you in your style journey with style guides, video masterclasses & a supportive Facebook community. 
During February we'll be focusing on body shapes & how to dress to flatter your proportions.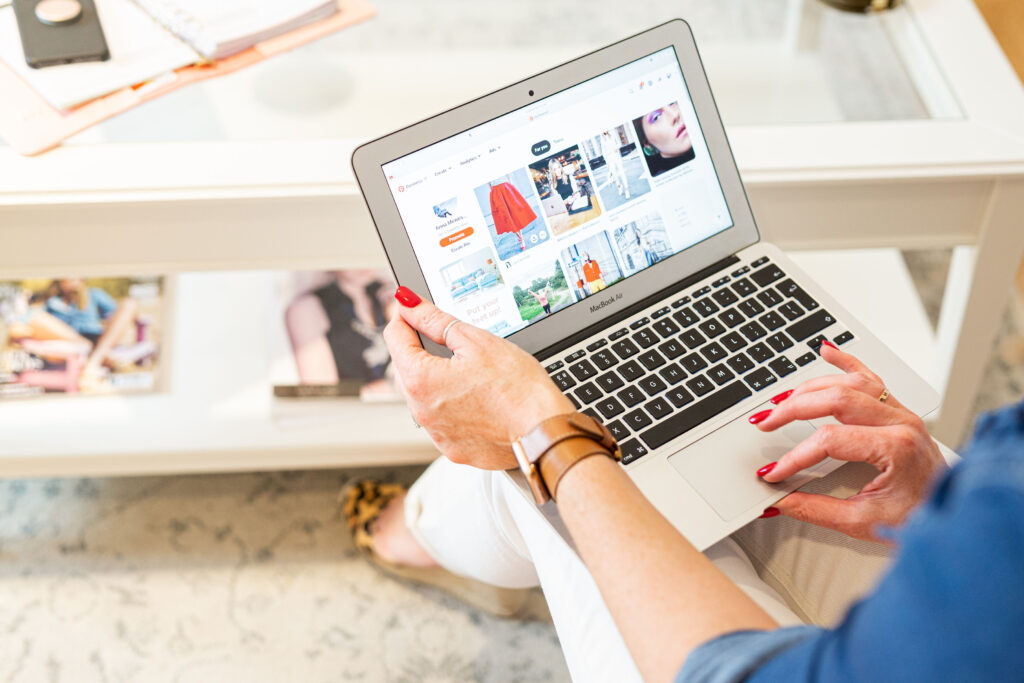 Ready to make a 1-2-1 booking?
If you're local to the West Yorkshire area please take a look at my styling services which cover everything from colour analysis to wardrobe edits and personal shops.
If you're a little further afield then my online styling packages can also be viewed via the link below.