Does anyone else feel like it's done nothing but rain so far this year?!
As I type I'm looking out at a very dark, rainy Tuesday morning – but I've lit a candle, popped some music on and got myself a mug of hot chocolate to create some cosy vibes indoors.
I mentioned in my  blog last week that I believe we should always be extra-kind to ourselves during January. There's so much pressure to hit the ground running in the New Year – but that's not always how we're feeling is it?
A contributory factor to this month feeling extra long and gloomy can often be lack of love for our current wardrobe. The buzz of our new Autumn/Winter purchases has most likely worn off at this point and funds may well be lacking after the fun and festivities of Christmas.
With this in mind, I want to discuss how you can maximise your wardrobe this month without needing to spend any money on new purchases…
Start With What You Have – But Make Sure Its Organised
If you've followed me for a while I'm sure you can probably predict the first thing I'm going to suggest you do – clear out your wardrobe!
This needs to be done on a regular basis anyway and January is a great time to get everything organised. TAKE IT ALL OUT, give your wardrobe a good clean, invest in some new hangers ( I love these ones which are very inexpensive as well as space-saving).
Once it's all out I want you to put everything back in BUT only if…
It's in good condition
The colour/shape is flattering on you
It makes you feel GREAT when you put it on (at least 8/10)
Now You Can See Everything…
It's likely there are a few items that you might have forgotten about/still have the labels on in the mix – so your next task is to WEAR EVERYTHING ONCE before you repeat-wear anything.
Start with things you haven't worn for a while/never worn – we all tend to reach for our favourite items in repeat, which leads us to getting bored when actually we have lots of alternatives we could wear if we were a bit more mindful about our selections.
Plan Your Outfits
Every evening look at your diary for the day ahead and the weather forecast and get out what you intend to wear the following day.
Trust me, this process is a game-changer. I incorporate this process into my evening routine and pop everything on a rail in my bedroom – this includes shoes, bag and accessories.
Planning your outfit when you have time to really think about it will mean you're more likely to try new combinations and hit on something you feel great in.
Get Inspired
If you're struggling to come up with outfit combinations then get onto Pinterest or Instagram for some inspiration. I create mood boards for outfits I want to re-create all the time and recommend my clients do the same – save them all in a folder together to come back to next time you're feeling in a rut. I also recommend taking pictres of any outfits you put together that you love so that you have a whole raft of ideas when you're short of time and maybe haven't had a chance to plan ahead.
Don't Forget The Finishing Touches
Never underestimate the power of the little details – a pop of a lip colour you would usually save for 'best', switching up you accessories, even if it's just a change of footwear or switching your usual earrings/necklaces – look at every aspect of your outfit and consider what small tweaks you could make to change it up.
I genuinely love the feeling of creating outfits from items I already own, it's such a buzz!
So enjoy getting creative this month and let me know how you get on.
Until next time
Anna xo
Looking for weekly style tips & tricks?
My online membership hub, The Style Sanctuary, is here to support you n your style journey with style guides, video masterclasses & a supportive Facebook community. 
Try it for free to see if it's right for you…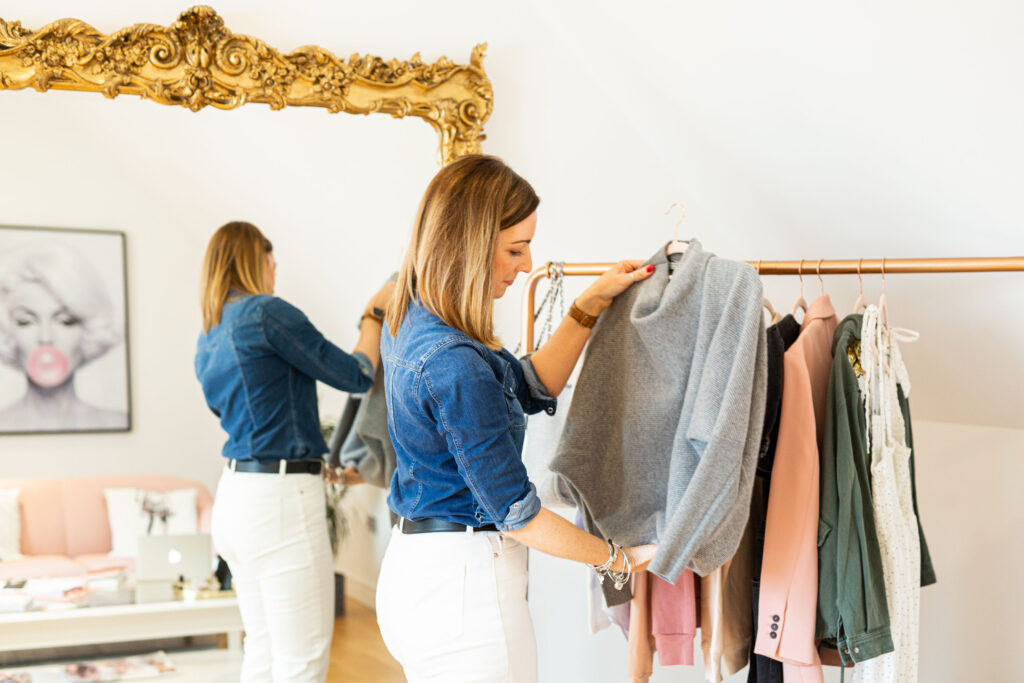 Ready to make a 1-2-1 booking?
If you're local to the West Yorkshire area please take a look at my styling services.
If not, then feel free to browse my online packages via the link below.